Enjoy yourselves raising money for a good cause

Carl Nye's Benefit Do

On Saturday 19th November 2011

18.30pm onwards

CB Hounslow Football Club, Osterley Sports Club,
Tentelow Lane, Norwood Green, Middx UB2 4LW

DJ, Raffle , Auction & Nibbles

£5 per person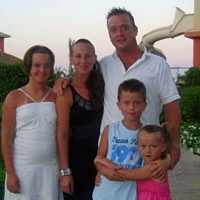 This event has been organised by Lindsay McCafferty to raise funds for Carl Nye after he injured his spinal cord when he fell forward from a chair in Southall this April. Carl was a football coach at Osterley and is a father of four. He was a self-employed roofer but has been paralysed from the waist down and is now reliant on a wheelchair.
Lindsay McCafferty of Greenford, a friend of Carl's and the mother of his goddaughter, is holding this benefit do for Carl to raise money for him, his family and the hospital.
She said: "He is self employed so he can't work and he can't earn any money. He used to coach football for CB Hounslow in Osterley and all the kids adore him. He'd been doing it for a few years after his son, Kai, started playing for them so we are urging that all the people that know him and love him can help us out."
Medical staff have told Mr Nye that it is possible he may be able to walk again, but only with a huge amount of physiotherapy, which could take years.
He is due to be discharged from hospital on November 2.
Lindsay said: "It's really sad, he was always out and about with his children and mine. He would always take them swimming or playing football with them."
She is looking for donations and prizes for the event on November 19 at the football club in Osterley.
Anyone who can help can email mads5linz28@yahoo.co.uk.
October 20, 2011