The Promise Supports Disabled Children in Russia
Local mother, Sarah Settelen, has been awarded the "Mum on a Mission" award 2011 by the organisation Mumpreneurs UK at their annual Conference and Awards Ceremony last weekend.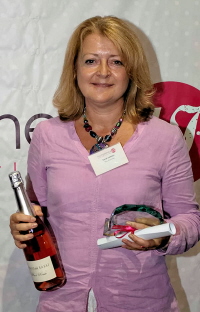 Sarah, pictured with her trophy, started up a charity "ThePromise" in 2003 to support disabled children in Russia, both those living in orphanages and those living at home with their parents. She was inspired to do this after the tragic death of her 4 year old disabled daughter, Ellie. She has been on a mission ever since to help change the lives of these Russian children. Those living in orphanages had never received any love, therapy or one to one attention before ThePromise arrived. And parents who were struggling to care for their disabled child at home with minimal help from the government have called ThePromise's work "lifesaving".
ThePromise, a registered charity based in Isleworth, trains and supports carers and parents in a specialised system of learning called "Portage". It also campaigns fiercely on behalf of these children for better funding, more resources and greater equality and understanding.
Results have been astonishing. Since setting up ThePromise children who have been bed-bound in an orphanage all their life have walked for the first time; many are now feeding themselves, and uttering their first words; most are putting on weight and all are now experiencing joy and hope for the first time. Some children living with their families have been accepted into mainstream kindergartens for the first time thanks to the dedicated work and passion of ThePromise team.
Sarah says "It's wonderful to be given this award. When Ellie died, I promised her I would do everything I could to improve the lives of disabled children wherever I could, and it's fantastic to have my 'mission' recognised by this 'Mum on a Mission' award".
If you would like to find out more about the work of ThePromise, visit them on www.thepromise.org.uk or find ThePromise for Children with Special Needs on Facebook.
October 5, 2011