Senior Manager at Holiday Inn Brentofrd Lock takes on role

In a well attended meeting at The Hock Cellar on Thursday, Suzie Betlem, former President of Brentford Chamber handed over her chain of office to David O'Connor as her 4 year term expired.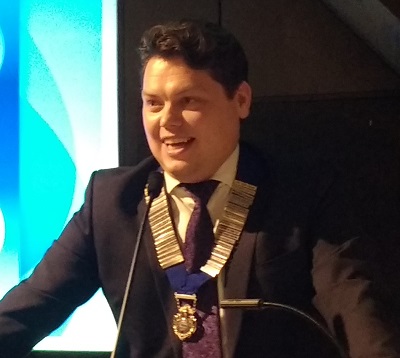 David, Meetings and Events Sales Manager at the Holiday Inn Brentford Lock. said: "For almost a century, the Brentford Chamber of Commerce has protected the interests of the local business community. It is an absolute honour to be selected as President and I will do all I can to continue this great tradition.

"The whole team at Holiday Inn – London Brentford Lock, is committed to engaging with the community at every opportunity and this will help us to become even more deeply connected with the area, its residents and its businesses."

The evening was opened by Jonathan Swaine, Managing Director of Fuller's Inns, who praised The Griffin who catered the event and reminded those present that he lived in Brentford for 8 years before outgrowing it.
Ruth Cadbury, MP for Brentford and Isleworth was guest speaker talked about the pros and cons of being a small business in Brentford, focusing on the lack of housing and its effect on staff retention.
Suzie spoke of the major events organised while President, with the University of West London taking over the successful Brentford Dragons competition run for the past two years.
May 20, 2016