Brentford Chamber goes to Stamford Bridge with the help of RedRoutemaster.com

Brentford is full of the most extraordinary people and companies. One such company is RedRoutemaster.com, based in Brentford and proud owners of some beautiful Routemaster Buses.
Chamber Member Jan Riley, of Blond Events (a Brentford based Wedding Planner and Event Specialist) suggested that Brentford Chamber should organise a Routemaster to take Chamber Members and BIAS Supporters to the FA Cup Replay at Chelsea. The idea was quickly agreed by the Executive and Jan was left to make the arrangements. Darren, one of the owners of RedRoutemaster.com, and pictured below with Chamber President Suzie Betlem, loved the idea and agreed to provide a very special rate for the Chamber, in order that a portion of the £10 ticket price could go to charity.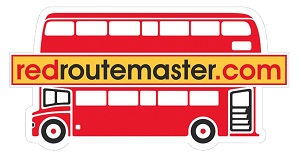 In fact, we are proud to announce that thanks to RedRoutemaster.com's wonderful generosity we were able to allocate £5 of every £10 to charity, meaning that over £300 was raised.

The day started outside the Holiday Inn waiting for the wonderful old Routemaster Bus. O'Briens across the road had very kindly prepared bacon butties and some pink fizz, red not being available. We'd like to thank them for opening so early just for us.

Once our Routemaster was decorated with red and white balloons and streamers, we piled on board and were off, a mixture of Chamber members and local supporters with representatives from GSK and Goddards as well as Nick Bruzon, author of The Last Word in BFC matchday programmes, Mike Humphrey a wonderful supporter on a day trip from Newcastle and many others. As we were driven down a quiet Brentford High Street we were greeted with waves and smiles from pedestrians who knew exactly where we were going.

We had an easy journey to Stamford Bridge, with Hey Jude blaring out on repeat and passers by looking increasingly bewildered at us the closer we got. The Routemaster certainly gave an element of style and panache to our arrival.


For the duration of the match 6000 Brentford fans sang their hearts out while facing a silent sea of Chelsea supporters.

We might have lost but we sang and shouted for over ninety minutes, loud and proud to be Brentford rather than "a bus stop in Fulham". There are plenty of match reports online if you haven't read the details.

RedRoutemaster.com and the Brentford Chamber showed that local companies working together could do magical things. Whether football supporter or no, it's important to show solidarity with Brentford FC and to help raise Brentford's profile and the community sense of pride we all have. Brentford Chamber recognises and values having a proper community minded football club which is invested and committed to the area's future as are we all. We'd like to congratulate Brentford FC for having managed so well in the FA Cup and hope to do even better in the league. We are also proud to be able to have RedRoutemaster.com as our newest member and look forward to welcoming more new Chamber Members aboard in the future.

Should you wish to hire a London icon with RedRoutemaster.com, and add that magical touch to your wedding, event or party, contact them now on 020 7000 1952 and speak to Darren or Rory.

If you're a local business, anything from a sole trader to the largest company in Brenford, then the Brentford Chamber of Commerce is for you. If you'd like to attend as a guest or find out more about the Chamber, please email secretary@brentfordchamber.org, follow @BrentfordChmbr on Twitter or join the Facebook page.

February 21, 2013