Gunnersbury Park Museum accepts an addition to its collection

Back in March of this year, Brentford Chamber of Commerce received an unusual letter from Central and Cecil, a not-for-profit housing and care provider based in Waterloo.
This organisation was looking for a relative of Cyril J Scott and was wondering whether Brentford Chamber could help.
Wondering what the connection between the two was?
Well, in 1998 Central & Cecil merged with the Brentford Philanthropic Society which itself was formed back in 1867 and acquired a bust of Cyril J Scott, cast to commemorate the Philanthropic Society's centenary year in 1967.
Cyril was also the Managing Director of Smith's Crisps which was based in Brentford and the President of Brentford Chamber of Commerce between 1937-40.
Brentford Chamber was unable to trace any living descendants, but with the help of Janet McNamara we were able to confirm that these two Cyrils were definitely one and the same and with that information, Gunnersbury Park Museum agreed to host Cyril.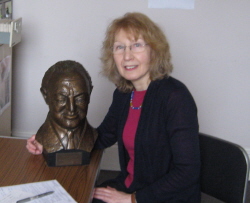 Vanda Foster is the curator at Gunnersbury Park Museum, pictured alongisde Cyril said "The museum is delighted to accept this gift of the bust of C. J. Scott. He was an important figure in the history of Brentford, both as Managing Director of Smith's Potato Crisps, whose factory was on the Great West Road, and in his community work as President of Brentford Philanthropic Society. This bust allows us to put a face to the name and helps to bring alive the history of the area."
If you're a local business, anything from a sole trader to the largest company in Brenford, then the Brentford Chamber of Commerce is for you. If you'd like to attend as a guest or find out more about the Chamber, please email secretary@brentfordchamber.org, follow @BrentfordChmbr on Twitter or join the Facebook page.
November 27, 2012