Brentford Chamber of Commerce hands over earnings from the Brentford Festival

Every year the Brentford Chamber of Commerce members enjoy a fun day out at the Brentford Festival and run a tombola stall to raise money for charity. The money collected is then given to a designated charity of their choice. This year the Chamber members have decided to give it to the Glads Club at Brentford School for girls.
The Glads Club is well known to Brentford residents, who regularly help them by saving stamps for the RSPB, spectacles for Vision Aid Overseas, as well as donations for Guide Dogs and the RNLI. Students at Brentford School for Girls raise money at lunchtimes, by selling sweets, biscuits and lucky dips for a wide range of charitable causes. This makes them aware of the different needs in our community such as Special Needs, Older People, Blindness, as well as research for different diseases such as Kidney and Cancer Research. Our Club is listed as a Lunchtime Art Club with a Social conscience on the school website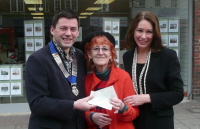 Marianne Gilbert (middle) who runs the Glads club was given 4 cheques for £96 by Peter Hughes (left), President of the Brentford Chamber and Julia Quilliam (right) on Monday 31st January. "It is fantastic news for the Glads club that the Chamber has given this money which we will donate to our four favourite local charities Portage, Age UK Hounslow (Albany Road), Hounslow Toy Library and Brentford Toy Library. My hat goes off to them for their Community Spirit."
If you're a local business, anything from a sole trader to the largest company in Brenford, then the Brentford Chamber of Commerce is for you. If you'd like to attend as a guest or find out more about the Chamber, please email info@brentfordchamber.org The next event is on Feb 22nd at the BMI Clinic.
February 17, 2011