Related Links
Participate
The people seen in the photographs used on this page or linked to from this page are not necessarily directly connected with the offences under investigation.Their presence in the photographs may be entirely innocent.If you recognise them please telephone 020 8247 6443 where your calls will be taken in the strictest confidence. Alternatively if you have any information about other crimes or wish to stay anonymous call Crimestoppers on 0800 555 111.
Sign up for our free weekly newsletter
Comment on this story on the

This is a case of an assault and a theft of a mobile phone, which occurred on a bus in Sutton Lane on 27th November 2005 between 8.25pm and 8.35pm.
The victim was on a H28 bus along Sutton Lane when it stopped at traffic lights at the Great West Road (A4) junction. The victim was talking on his mobile phone when he saw the suspect on the pavement. The suspect came onto the bus and walked up to the victim and said in an aggressive manor, 'what the **** are you saying' and proceeded to punch the victim with his fist.
The victim covered his head before the suspect punched him a further 6 times. Whilst this was occurring the victim's Nokia 3310 mobile phone (valued at £50) fell to the floor, and the suspect picked this up and decamped from the bus with it. The victim suffered cuts and reddening to his face.
Police would like to interview the following suspect about this assault and theft:- Asian male, aged around 18 years, 6.3 tall, slim build, black collar length spiky hair, London accent, slim build, wearing a long cream jacket, white t-shirt and jeans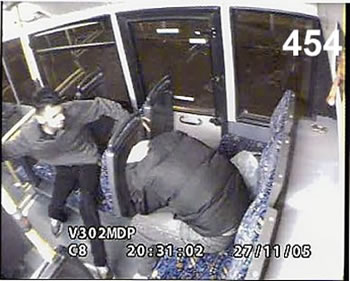 Date first published - March 6, 2006
Date last edited - April 25, 2006