Cat Tales of TW8 - the first of many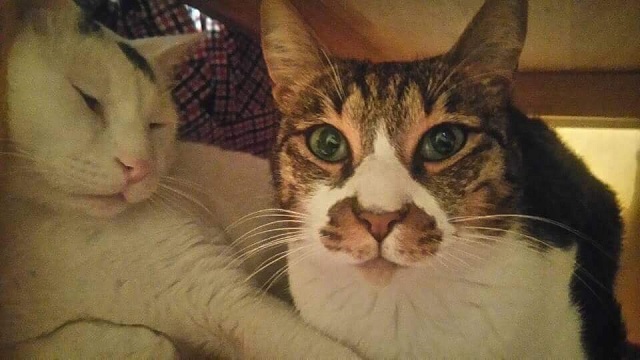 Ozzie and Sharon
I love Brentford, but the town is missing something. And that "something" is a cat.

Obviously there are many fine feline specimens living here - and I could probably name at least 70% of them - but what I mean is an official town cat. THE Brentford Cat, if you will.
Meet Sharon (on the right), who lives in Brentford with her devoted humans, Ceri and Michael, and her feline consort, Ozzie (left). Unlike their human namesakes it is Sharon, not Ozzie, who is the feisty hellraiser, and she certainly gave her humans some grief when she decided to make a break for freedom during the festive period, remaining a fugitive for over 2 weeks.

Sharon originates from the unforgiving streets of Kuwait and has, no doubt, endured challenges and hardships that have made her the tough, no-nonsense cat that she is today. So her escape was no accident: this was a deliberate act of rebellion, a declaration to the world that she is her own cat and, therefore, will not be bound by the restrictions imposed upon her by us plebby humans. Her folks were distraught at her disappearance and began a social media campaign to find their girl, never imagining that she would seek refuge in the town's biggest and most formidable place of worship: Griffin Park stadium. Sharon had firmly nailed her colours to the mast ... but who knew that they would be red and white?
Because Sharon is rather partial to men and can take or leave women, the predominantly-male community hub that is Griffin Park really was the perfect sanctuary for her, and she saw no reason to rush to leave. She happily sat with fans to watch the Sheffield Wednesday game (which was excellent planning on her part; a week later and she would have been stuck watching the Notts County game, and we all know how THAT turned out), with nobody appearing to mind that she hadn't bought a ticket. She even resisted her humans' initial attempts to recapture her and take her back home. Well, why on earth would she want to do that when she was having a perfectly pleasant time at Griffin Park, being fed and fussed by the lovely staff and enjoying a bit of Twitter fame at the same time?
After just over a fortnight of being on the run, Sharon was successfully cornered by the staff at Griffin Park and returned to her relieved humans. She is now back home, becoming reacquainted with Ozzie and doing what she does best: ordering her humans around, yelling at them when their levels of service fail to meet her exacting standards, and probably planning her next coup.
I believe that Sharon is the perfect candidate for The Brentford Cat but I shall continue nonetheless in my quest to find others, mainly because it allows me to do the two things that I love the most in the world: meeting cats, and writing about cats that I have met. If you know of any other magnificent cats of TW8 who may be worthy of the lofty position of The Brentford Cat, I would love to hear from you.
If you like cats, especially French ones, you might like to take a look at my blog: JeSuisLeRoiSoleil
Cat Mamma of TW8
January 12, 2018