Basketball area to be fenced off
Floreat Brentford Primary School have received permission to use the basketball court in Carville Park South for its students at lunchtime and an additional break during the day.
Floreat has received temporary permission to use a site within Great West Quarter for temporary accommodation for up to 3 years while a permanent site is found. Its current site has no outdoor space for pupils.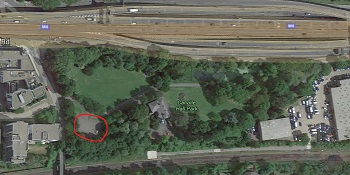 Carville Park South with basketball area circled
Hounslow council have agreed to the request from Floreat, which will see the basketball area being used solely by the school between 11.45-1.15pm every school day and an additional 30 minute time during school hours.
Carillion Parks comment in their letter to residents "The fencing of the area is seen as an improvement in facilities at the park, as it will promote the full intended usage for the court. It will help increase the usage of the park and contribute to the health and well-being of the children using the facility. Multiple use of areas in parks for schools and other users are increasingly common in London parks, resulting in higher usage and improvement of park infrastructure through partnerships".
This will necessitate the area being fenced which will be built by Carillion with the cost being borne by Floreat who will also provide a small fund to make improvemetns to the park.
Carillion are asking for suggestions and comments on the proposed works, including how to spend the additional funding and any suggestions on how to improve Carville Park South. Please email hounslowcommunities@carillionservices.co.uk
December 16, 2015