Currently restoring a bus chopped in half in 28 Days Later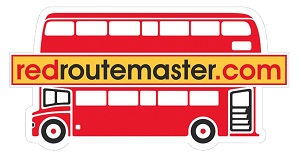 RedRoutemaster, vintage routemaster bus hire company, have recently invested in a bus that was originally chopped in half to appear in the zombie movie 28 Days Later. The bus is now the latest restoration project for the Brentford bus hire firm.

A decade after the retirement of the iconic buses, Red Routemasters are continuing to thrive in a small corner of West London. Adam Shailes and Darren Kidd both shared a passion for London's favourite red vehicles, so the pair decided to buy one and fix it up together four years ago. Today, the pair run a thriving fleet of eight vintage buses, which they hire out for weddings, corporate parties and other events across the country.

Transport for London celebrated the 60th anniversary of the hop-on, hop-off buses last year. Although the publicity helped to drum up bookings, Shailes said the price tag of old Routemasters has now soared due to their popularity. In years gone by, Routemasters were available to purchase for under £8,000, they now change hands for five times that amount, not including the hefty restorations bill.

The exponential increase has pushed the firm to take on even more ambitious projects. The latest project for the company is an old Routemaster which was sawn in half to feature in the zombie thriller – 28 Days Later. The team are set to restore the vehicle at their new base nearby Brentford Dock Road. The team said they are indebted to the support of the Brentford Chamber of Commerce and the developer Ballymore for helping to find a new home for the business.

Co-owner of the company, Adam Shailes, reminisced about the beginnings of the family run bus hire company. He stated: "We found out about an old Routemaster which was looking very sad and neglected and needed a new home, and we thought why not? We never imagined it would turn into what it is today, but they're iconic vehicles that remain very popular with the public."

Red Routemaster now has seven full-time employees and supports 25 workers in total. The vehicles frequently appear at local fairs and are a favourite at wedding parties. The company hope to continue with their recent success and continue to restore iconic Routemaster buses in future. Despite the retirement of the bold red buses in 2005, RedRoutemaster wants to give the public the opportunity to enjoy the historic buses for years to come.

RedRoutemaster are a locally owned, family run company who hire out iconic Routemaster buses for special occasions such as weddings and birthdays, as well as tours and trips for large groups of people. With a number of fully licensed vehicles – all built in West London by official manufacturers during the 1950s and 1960s – available for hire, they have established themselves as market leaders in the field.
From SourceWire
April 7, 2015