Russell's of Brentford arrived on Brentford High Street quite quietly last year.
It offers shoe repairs and replacement heels, keys, watch repairs and replacement batteries as well as a collection of shoe care products and umbrellas in case you get caught out.
Jon Russell has lived round the corner for over five years, and had felt that a shoe repair shop would be a great addition to the high street for a long time. He is a genuine local who appreciates the ability to walk to work in less than five minutes.
He comes from Timpson's in Egham having trained in their Richmond store and was made manager in his first year.
Jon is reassuringly confident about his abilities and has minimised his start up costs by resourcing all the equipment needed second hand and refurbishing it himself. It's all surprisingly expensive.
The shop has been nicely done up at the front with a lick of paint to brighten it up. With the future of the High Street so uncertain and only a twelve month lease, he hopes that the residents of Brentford will take advantage of his services and in time will find a more permanent premises. Starting up a business under these conditions is quite dangerous and for Russell's to survive local residents need to use it. He has had some very positive feedback so far from his customers.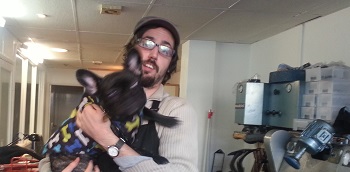 You might hear a bark when you visit. Stitchy is a charming and well-behaved French bulldog who resides in the back with a firm child gate in the way. He does think he deserves quite a lot of attention but refused to pose for a photo.
The shop is open 10-4.30pm Monday to Friday, staying open to 5pm on Saturday.