"the most advanced shopper insight facility in the world"
GSK has opened a new high-tech shopper research facility designed to provide in-depth understanding of the influences on consumer decision-making.

Launched this week, the 10,000 sq ft Shopper Science Lab in Brentford featured "groundbreaking" technology, said GSK, including the world's largest seamless touchscreen.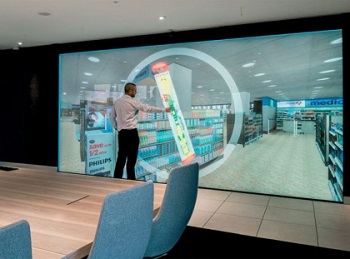 Dubbed the Virtual Insight and Engagement Wall, it is more than five metres wide and two-and-a-half metres high, and allows researchers to make 3D visualisations of retail environments.

GSK has also recreated real-life store environments, including a pharmacy area it described as the first of its kind, in which it can analyse shopper behaviour using mobile eye-tracking equipment.

A dedicated research control room allows remote viewing of shoppers in all research areas, and live recordings can be paused, rewound and annotated. Researchers can also analyse a shopper's subconscious and emotional reactions through the use of bespoke skin and facial biometric tools.

"We believe the Shopper Science Lab is the most advanced shopper insight facility in the world," said lab director Crispin Haywood. The facility would quickly generate insights that could increase profitability and growth for GSK and retailers, he added.

The facilities were "world class", said Waitrose non-food buying head Stephanie Chafor, who has visited the lab. "They provide a great mechanic that will help us build growth for both our businesses."

GSK added that integrating shopper insights earlier in the product development process would shorten lead times and improve ROI.

The Brentford location also offered access to one million shoppers across all socio-demographic profiles within a three-mile radius, it said.
Hattip to The Grocer
October 15, 2013