Brentford based company wins international trade accolade
Brompton Bicycle has been announced as Winner of the Queen's award for Enterprise: International Trade.
The award has been made in recognition of Brompton bicycle's rise in exported sales in the last 5 years, with 75% of production exported annually.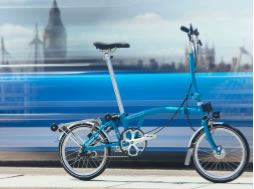 Since 2010 the company has grown to sell in 43 export markets, including countries in South America, Eastern Europe, the Middle East and Asia.
In the last 3 years Brompton bicycle has also rolled out 8 branded Brompton Junction stores in major international cities including London, Amsterdam, Milan, Bangkok, Beijing, Shanghai, Kobe and Hamburg. With plans for more to follow over the coming year.
Brompton Bicycle CEO, Will Butler-Adams OBE, said, "We are working non-stop, obsessed about our bike, our staff and our customers; trying to keep ahead of the competition. Recognition from the Queen is a tremendous privilege and allows everyone involved in Brompton Bicycle to take a moment to reflect on our achievements and be proud of our progress so far. The Queens Award is held in high regard across the world and further strengthens our reputation in the forty-four countries to which we export".
This is the fourth accolade for the company having previously received The Queen's Awards for Enterprise in both Innovation and International Trade in 2010 and originally The Queen's Award for Export Achievement in 1995.


April 22, 2015