London Cycling Celebrates London's local folding bikes




Brentford based folding bike manufacturer Brompton Bicycle yesterday unveiled an extraordinary flagship store in Covent Garden, the first of its kind in the UK.

Branded as a Brompton Junction, the new location builds upon the success of four other permanent Junctions in Amsterdam, Hamburg, Kobe and Shanghai.

Managing Director Will Butler-Adams explains:

"Our first Brompton Junction opened in Kobe, Japan, two years ago, driven by the boldness of one of our keen dealers. Since then we have been desperate to open one in our home city. In London we want to put the Brompton, a humble bicycle, somewhere where people wouldn't expect it, in famous Covent Garden. We want more people to realise that riding a bike in a city is for everyone, six inch Louboutin heels, funky Paul Smith jackets – they all work. Through the Junction we want to not only get Londoners on bikes but also show visitors from around the world how the Brompton can transform the way we get around cities."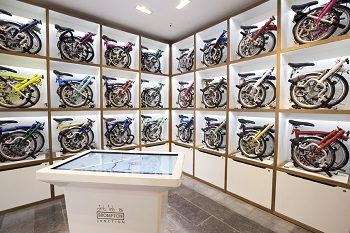 Located on the site of the invention of the hobby-horse bicycle, the shop not only showcases the full range of Brompton bikes, bags and accessories, it also features a workshop and café. At street level, the store welcomes visitors with bespoke shelving offering space for 27 Bromptons in sweet shop style bright colours. An interactive table allows customers to click through the design process and B-spoke a new bike to their needs before ordering. Hidden snuggly under a bench, upholstered in District-line-material, are half a dozen demonstrator models ready for those interested in taking one out for a spin.

Store manager, Greg Sanderson said:

"We hope visitors will be excited and intrigued by the space; the team at Brompton HQ have come up with some typically quirky additions – from a custom made main frame chandelier to a graffitied London scene, there are loads of little details which add to the experience."

Downstairs the Brompton Canteen serves up Tregothnan tea, the only tea grown in the UK, along with specially prepared sandwiches, cakes and snacks. The beautifully laid out open-plan workshop means mechanics are on hand for technical queries, or, for current owners to book their bikes in for the full-monty 'Factory Service'. Beneath an arch of exposed brick work stands bike no.18, one of the first run of 400 Bromptons, all built by Andrew Ritchie; each Junction around the world has a different one.

Along with group rides and technical workshops, the venue is expected to hold a number of talks and events from influential Bromptoneers over the next year.

The store is open 7 days a week and can be found at 76 Long Acre, Covent Garden WC2E 9JS.


www.brompton.co.uk
www.bromptonjunction.com

October 10, 2013