London Cycling Celebrates London's local folding bikes




Brompton Bicycle celebrated this week after winning the London Cycling Campaign's award for 'Best Product', as voted for by members of the public. The awards ceremony, which was hosted by ITV's Ned Boulting, took place in the crypt of St-Martin-in-the-Fields Church in Trafalgar Square.
Will Butler-Adams, managing director, attended the event and collected the award; he said:
"This award is a great recognition of the success we have had manufacturing our folding bikes in London for the last 25 years. Awards like this mean a lot to everyone at the company, manufacturing is a difficult industry and to get this recognition is fantastic"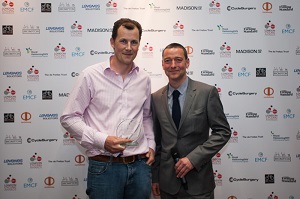 Other winners of the public awards, which saw over 10,000 votes cast, included Rapha and road.cc. There were also five awards for cycling initiatives chosen by the LCC panel; these saw a range of grass-roots projects commended, from TfL's Safer Lorries Procurement Plan to Hackney Council's schools Bike Around the Borough. The night was a celebration of just how much cycling in London has grown, the organisers commented:
"The awards come at a fantastic time for cycling, and we're thrilled so many people voted in our new-look London Cycling Awards, and congratulate our winners as well as everyone who was nominated.
"This has been an amazing year for cycling - more and more Londoners are enjoying cycling for their everyday journeys and it's clear that cycling has really captured the imagination of the public."


www.brompton.co.uk
www.bromptonjunction.com

May 10, 2013