Brentford cycle manufacturer holds event at Blenheim Palace
The Brentford-based bicycle manufacturer Brompton held their seventh World Championship race last Sunday (19 th August).
The event was held at Blenheim Palace, Oxfordshire, for the fifth year running as part of the palace's Festival of Cycling.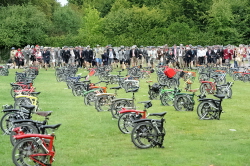 The company prides itself on designing and building all its bicycles in West London.
The event sold out all of its 750 places within two weeks, and 682 riders turned out for the race. Hundreds more spectators came to watch.
The rules of the event state that all participants must wear a jacket and tie as a nod to all the commuters who use the Brompton bike, though shorts and trainers are allowed. Prices are awarded for the best dressed.
Will Butler-Adams, Brompton's Managing Director, said: "The Brompton World Championship is a great reminder to us all what these bikes, and cycling in general, should be about; having fun! Yes, it's a race but it's hard not to have a grin on your face as you fly around the track with 700 others all wearing jacket and tie."
34 nationalities were represented at the race, including Anders Hedqvist, who had spent the last 18 days pedalling from Stockholm to London on his Brompton to attend.
Time trial specialist Michael Hutchinson confirmed his credentials with a second successive win in a record time for the 13km course of 20 minutes 17 seconds.
Julia Shaw took the prize for Fastest Female in 23 minutes and 39 seconds.
This year, the Bike Blenheim Palace event included a Brompton Marathon of 26 miles, and a 300m uphill sprint.
Brompton also held several off-track events, including a question and answer session with inventor and founder of Brompton Bicycle Andrew Ritchie, and a folding competition, which was won by Japanese Daiju Yokota with a fold in 8.35 seconds.
Event organiser Katharine Horsman said: "The Brompton World Championship has been popular for several years now and we have been at capacity for the last three years.
"The expansion of the Blenheim event gave us the opportunity to add some new disciplines to the mix both to appeal to new participants and to really challenge the event's serious fans.
"We had a great turnout early in the morning for the Marathon and I think the Sprint may be the new hot ticket in town, great fun to watch and, from all accounts, good fun to take part in."
August 22, 2012