Flyers come in 8th at the Brompton World Championship
The 6th Brompton World Championship was held on Sunday 21st August 2011; and for 6 young men from the Golden Mile Transport Group, it was a day of great achievementand success.
The Golden Mile Transport Group's 'Golden Mile Flyers' came 8th out of 37 teams, on a route that stretched over 13 miles. The Team time completed the course in 1 hour 20 minutes and 48 seconds. This meant that they were 13 minutes behind first place and only 3 minutes off third.
The 'Flyers' individually performed strongly, especially Barry Harwood of Octink who came in 43rd out of the entire field of 673 cyclists. The individual times were as follows.:
Barry Harwood (Octink) - 25 minutes 08 seconds (43th position out of 673 cyclists)
Simon Caffrey (West London Business) - 26 minutes 57 seconds (107th position out of 673 cyclists)
Richard Tyler (Octink) - 28 minutes 43 seconds (185th position out of 673 cyclists)
Gerald Baxter (GSK) - 30 minutes 15 seconds (262th position out of 673 cyclists)
Andrew Dakers (Hounslow EBP) - 32 minutes 51 seconds (400th position out of 673 cyclists)

Congratulations to all of the team who displayed a splendid effort for Brentford. Below is a picture of Simon Caffrey, Gerald Baxter and Andrew Dakers with Will Butler-Adams, the Managing Director of Bromptons.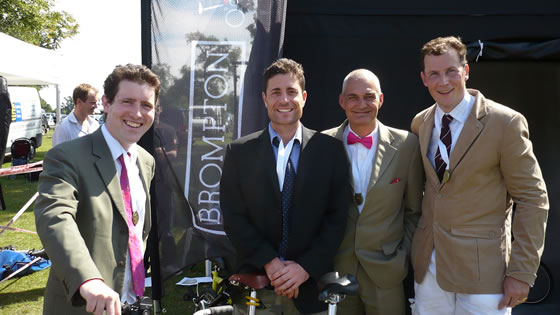 August 31, 2011