6th Brompton World Championship



The 6th Brompton World Championship was held on Sunday 21st August 2011; for the fourth year in succession, it was held in the UK, as part of the Breast Cancer Care Bike Blenheim Palace Festival Of Cycling.

The field maintained its impressive 750 registrants and the glorious weather ensured a bumper turn out, with 673 riders taking to the track in 20°c conditions. Competitors were spurred on by a large number of enthusiastic spectators.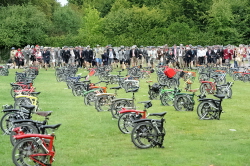 Katharine Horsman, the event organiser, commented:"We've set new records for the event including the biggest ever turnout and the fastest time ever set, thirty seconds faster than the previous record set by Robero Herras. Not only that but we've also had a lot of fun with afternoon tea, music and games, all in all, a great day."
First place for the Fastest Male category was taken by time trial specialist and Commonwealth Games competitor Michael Hutchinson, he completed the course in 21 minutes 15 seconds; Rachael Elliott, returning to defend her title of Fastest Female, made it two in a row by taking 1st place this year with a time of 23 minutes 35 seconds; both Brompton World Champions won white S6Ls, with unique London themed illustrations by artist Vic Lee.
The 2011 event was an international affair, with 31 nationalities represented. Six first place winners from three of the four Brompton National Championships held this year were also present. Aaron Ritz and Julie Secor of the U.S came closest to upgrading their national titles to that of World Champion, both collecting third in their respective categories.

Employees of Brompton Bicycle also made a strong showing, many of them taking advantage of the training that commuting to the factory in West London, on a Brompton, each day bestows. Gavin Morton, Management Accountant and keen cyclist with Charlotteville Cycling Club, will undoubtedly be talk of the factory with his 2nd place in the male competition and first place as part of team Brompton Factory 1. The full results list is now available online.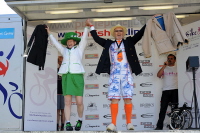 Despite the hot weather the rules for the event remained the same: helmets were an absolute must, as was a blazer or suit jacket, collared shirt and neck tie. Prizes were also awarded for the best-dressed, those that had managed to add an air of sartorial elegance to the proceedings; the winners were Fokko Bakker, of The Netherlands, and Rachael Jackson, of the United Kingdom (pictured left).

Will Butler-Adams, Brompton's Managing Director, commented:"What started out as a fun little event six years ago is fast becoming a slightly eccentric British institution, a rite of passage for Brompton riders to get together at this amazing venue and show that these bikes can really perform and have a bit of a laugh along the way. It's great to see all types here: élite to casual riders, all dressed up and having fun on the same ride.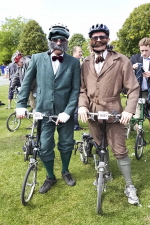 "I think the best dressed category is the one that everyone wants to win, this year we really upped the stakes by offering the fantastic Brompton Oratory Jacket as a prize. We saw everything from grand moustaches, to boating outfits and even more creative interpretations such as a Rupert the Bear inspired offering. It all ensures that we don't take it too seriously, although I will point out I got 78th this year which is my best position yet…"

Post-race, the competitors and supporters decamped to the Brompton Sturmey Archer marquee to claim their reward for completing the course: afternoon tea with the Brompton team and Andrew Ritchie, the inventor of the Brompton folding bike. The atmosphere was convivial, if not downright rowdy, with dozens of Bromptoneers embracing the Brompton folding bike challenge whilst London Pride, provided courtesy of Fullers, ensured the crowd did not go thirsty. A showdown was had on the main stage with the winning time being 9.7 seconds.
The video can be seen here and is well worth a look:
August 25, 2011