Duke shows support for Brentford British design and manufacturing


Brompton Bicycle Ltd was honoured by a visit from HRH Prince Philip, the Duke of Edinburgh this Monday.

The Duke was invited to visit the country's largest bicycle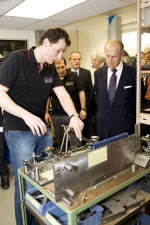 manufacturer by Brompton founder and inventor, Andrew Ritchie MBE, after he had been awarded the Prince Philip Designer's Prize in October last year, and the Duke kindly accepted, putting the visit in his busy schedule today.
The Duke was met by the Lord Lieutenant of Greater London, Sir David Brewer CMG JP, outside the factory; Sir David is well-known to the staff of Brompton after attending the factory only last month to present the two Queen's Awards for Enterprise that Brompton has received this year.
The Duke was reintroduced to Andrew Ritchie and Will Butler-Adams, the present Managing Director, before being introduced to other members of the board of directors. After a brief presentation on the company and some refreshments, including cakes baked by Brompton staff, the Duke was presented with a model Brompton, a book of images from the 2009 Brompton World Championship and a few personal items.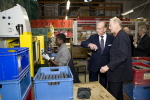 The Duke then began a tour of the factory, starting with the Sales, Marketing, Finance and Design functions where he was shown some of the computer-aided design [CAD] work which drives the ongoing development of the Brompton. The tour continued with an inspection of the Quality Control section, where the Duke was shown a coordinate measuring machine [CMM], our latest instrument in the testing of parts against design intent.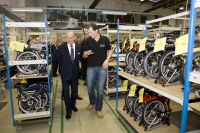 Andrew Ritchie then took the Duke through the Engineering and Brazing sections, talking him through some of the machines (including auto-braze and CNC equipment) and processes that ensure the quality of the bikes, and meeting some of the highly-trained brazers who create them by hand. The tour then took in the Stores and Assembly sections, where Bromptons are meticulously put together, before finishing with a demonstration of some of the new developments currently being perfected.

The Duke's visit, made in a personal capacity, provided a wonderful fillip for all the staff at Brompton, many of whom were able to speak with him as he was shown around. It was also a reaffirmation of the Duke's support for British design and manufacturing, and all of us at Brompton were thrilled by the visit.
November 30, 2010