Fuller's Brewery respond to complaints about new pub's description
One Over the Ait is the new Fuller's pub currently being finalised within St George's Kew Bridge development, firmly located in Brentford.
48 hours ago, looking at the new website got you this:
@Brentfordian2 was first to spot it on twitter, pointing out that the pub is well and truly in Brentford.
Joanna Russell, owner of Wickers in Brentford, wrote to Fuller's pointing out that "It is with huge frustration that, as a resident of Brentford, it is becoming the norm for developers and new business' to shun the name of its Middlesex county town.
"On your website for the new pub, you do not mention Brentford at all ... The only mention is Kew. When you say that your pub is 'one of the best places to eat in Kew' it can't be because it is NOT in Kew it is in Brentford TW8.
"Have you not noticed that Brentford is developing well and when the new stadium is built there will be plenty of trade for your pub. You will benefit from being in Brentford but do not want to acknowledge that is where you are. One question, Why? ...I think you should 'love the one you're with' and promote yourselves to the people that live locally. Brentford is a fiercely loyal and local town and you would do well to embrace the area and its people and not wish you were somewhere else."
To their very great credit, Fuller's promptly changed their website to Brentford. A spokesperson from Fuller's said: "We realise the issue around the location of our new pub, The One over the Ait, and although the pub lies in Brentford, it is right next to Kew Bridge and Kew Bridge Station – so to make it easier for customers to find it, we have chosen to refer to it as Kew. However, we take the points on board, and from now on we will be referring to it as One over the Ait, Kew Bridge – making it easy to find and giving it a correct location."
One Over the Ait is due to open shortly, with a delay connecting the gas supply postponing the launch to later this month.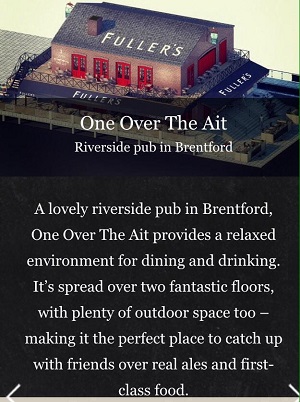 There is a long list of developments and businesses who advertise themselves as being located in Kew rather than Brentford. The tall tower commonly referred to as the Skylon is in fact called Kew Eye and the website for the entire QWest development doesn't have the word Brentford in once.
When Chiswick Volkswagen moved to Brentford some five years ago, they renamed themselves West London Volkswagen.
And of course, LB Hounslow are proposing the name "Kew Gate" for an area that definitely isn't in Kew.
November 5, 2014