Population growth prompts shake up of ward boundaries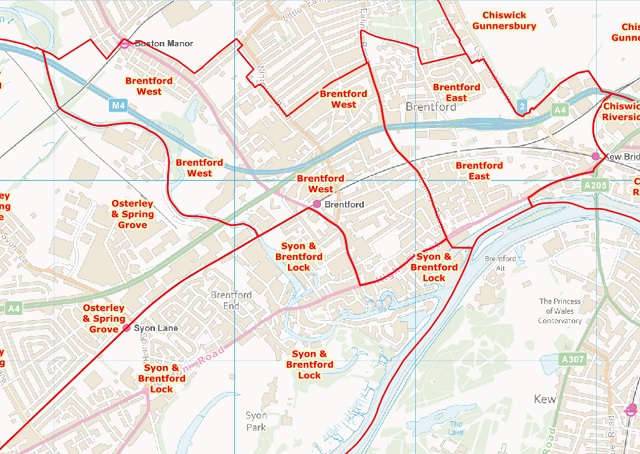 Boundary Commission's final boundaries for Syon and Brentford
The latest plan for changes to how Brentford is represented on Hounslow Council have been published. Radical alterations are to be made to the ward boundaries in the area due to the impact of new housing planned on population.
Broadly speaking Brentford will be covered by three council wards rather than two previously. The old Brentford ward is now split between two new wards (Brentford East and Brentford West) and Syon ward is being extended to become Syon and Brentford Lock. Part of the planned Capital Interchange Way development will be incorporated into Chiswick Riverside ward.
The Local Government Boundary Commission for England (LGBCE) has made the recommendations in its final report .
The new Brentford West and Brentford East wards will have 2 councillors each. These wards would have an expected variance by 2024 of 5% each (variance is measured against the average number of electorate per councillor which is calculated to be 3,636 in 2024). The new boundary between the wards will be Ealing Road.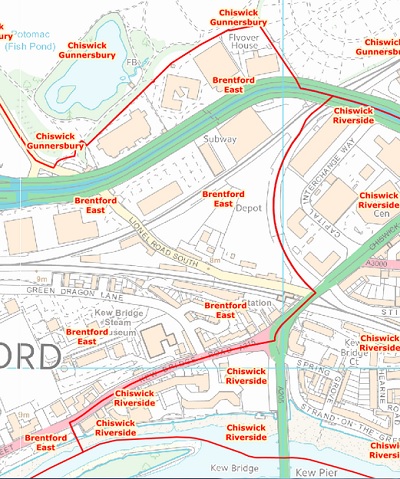 The major housing development at Capital Interchange Way will be part of Chiswick Riverside ward, as will Gunnersbury Park. The Lionel Road enabling development around Brentford stadium will be part of a new Brentford East ward. The Kew Bridge development is now included in Chiswick Riverside.
A small area north of Brentford railway line (around Orchard Road and Riverbank Way) has been moved from Syon ward to Brentford West and the boundary abound Brentford High Street has been straightened out somewhat. Syon ward becomes Syon and Brentford Lock in recognition of the split into three of Brentford and retains three councillors.
Minor changes are also made to Isleworth and Osterley & Spring Grove Ward.
The report also results in an increase of two councillors for the borough, from sixty to sixty-two.
The proposals will not come into effect until after the next local government elections in 2022 and must be approved by Parliament first. The change in ward boundaries is a separate matter to changes in constituency boundaries for a general election.
Cllr Steve Curran, Leader of Hounslow Council, said, "I would like to thank the Local Government Boundary Commission for England for their work and especially, the community groups and residents who responded to the consultations. I'm pleased to note that the Boundary Commission's proposals are to increase the number of councillors from 60 to 62. There were clearly some imbalances in the Borough of Hounslow due to the rapid increase in population which is also predicted to increase between now and 2022, when these changes will come into effect."
Cllr Pritam Grewal, Cabinet Member of Customer Services & Corporate Performance, added, "The Local Boundary Commission has taken on board many of the comments made by councillors, residents, and businesses. I would also like to thank council officers who have worked diligently to support the work of the Commission."
Cllr Ranjit Gill has commented on behalf of the Conservative group: "The final recommendations follow what we proposed.
"Turnham Green ward expands to include residents who live along Popes Lane and Lionel Road North, therefore also taking in Gunnersbury Park. Gunnersbury Cemetery also moves into this ward. The West Chiswick and Gunnersbury Society made similar recommendations and we were very glad to support them. We'd like to thank the residents of Popes Lane and Lionel Road North who signed a petition to move into Turnham Green ward. The ward will be renamed Chiswick Gunnersbury, as we suggested.
November 1, 2019