Boundary Commission agrees broadly with Hounslow Council submission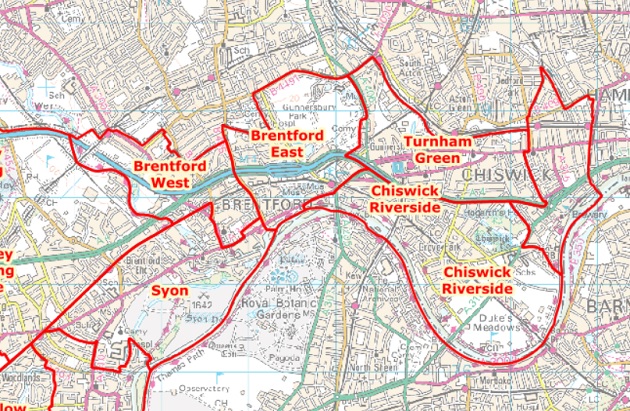 Boundary Commission's proposed Isleworth, Brentford and Chiswick seat
The Local Government Boundary Commission for England (LGBCE) has proposed in its draft report, to increase representation in Brentford and decrease it in Chiswick, with Chiswick Homefields losing a councillor. This supports the submission by Hounslow Council.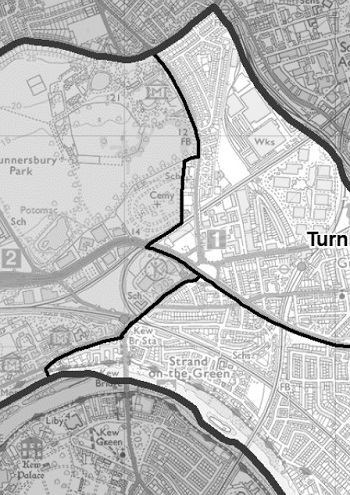 A small area of Brentford to the west of Kew Bridge would be included in Chiswick Riverside.
Brentford would be split into Brentford West, with 2 councillors and Brentford East with 3. These wards would have a variance by 2024 of -1% and 2% respectively (variance is measured against the average number of electorate per councillor which is calculated to be 3,636 in 2024). This is due to Brentford growing so much due to the large developments in the east of Brentford.
The proposed boundary between Brentford east and west is Ealing Road.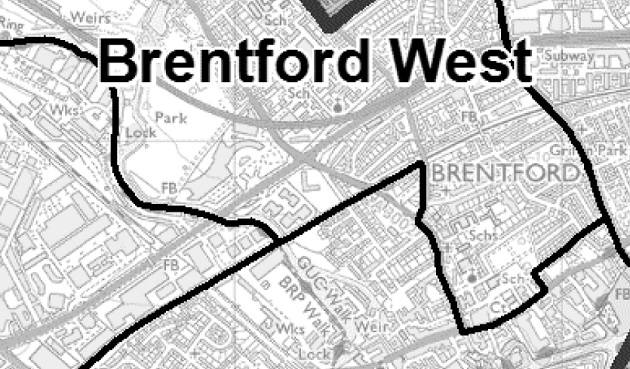 A small area north of Brentford railway line (around Orchard Road and Riverbank Way) has been moved from Syon ward to Brentford West and the boundary abound Brentford High Street has been straightened out somewhat.
A suggestion to make the boundary between Syon and Brentford West follow the natural boundary of the canal and keep all the High Street in Brentford West was rejected.

Minor changes are also made to Isleworth and Osterley & Spring Grove Ward.

A new consultation has now started which will end on 12 August, 2019. You can see detailed maps, read more and Have Your Say. The publication of the final recommendations will be on 29 October. The proposals will not come into effect until after the next local government elections in 2022.
The draft report also recommends an increase of one councillor for the borough, from sixty to sixty-one.
The change in ward boundaries is a separate matter to changes in constituency boundaries for a general election.
Name of ward
Number of Councillors per ward
Electorate 2018
Variance 2018
Electorate 2024
Variance 2024
Projected electorate
increase
Bedfont

3

9,756

0%

9,629

-13%

-1.3%
Brentford

3

12,106

24%

17,565

58%

45.1%
Chiswick Homefields

3

8,511

-13%

8,245

-26%

-3.1%
Chiswick Riverside

3

8,760

-10%

8,393

-24%

-4.2%
Cranford

3

9,723

0%

9,624

-13%

-1.0%
Feltham North

3

8,753

-10%

11,531

4%

31.7%
Feltham West

3

11,029

13%

11,511

4%

4.4%
Hanworth

3

8,952

-8%

8,908

-20%

-0.5%
Hanworth Park

3

9,131

-6%

10,009

-10%

9.6%
Heston Central

3

9,417

-3%

10,395

-6%

10.4%
Heston East

3

9,314

-4%

12,253

10%

31.6%
Heston West

3

9,527

-2%

8,995

-19%

-5.6%
Hounslow Central

3

11,677

20%

18,176

64%

55.7%
Hounslow Heath

3

10,494

8%

11,471

3%

9.3%
Hounslow South

3

8,787

-10%

8,787

-21%

0.0%
Hounslow West

3

10,280

5%

11,353

2%

10.4%
Isleworth

3

8,977

-8%

9,387

-15%

4.6%
Osterley & Spring Grove

3

10,175

4%

10,337

-7%

1.6%
Syon

3

10,990

13%

15,079

36%

37.2%
Turnham Green

3

8,573

-12%

10,167

-8%

18.6%
July 5, 2019