Pub can now stay open until midnight at least seven days a week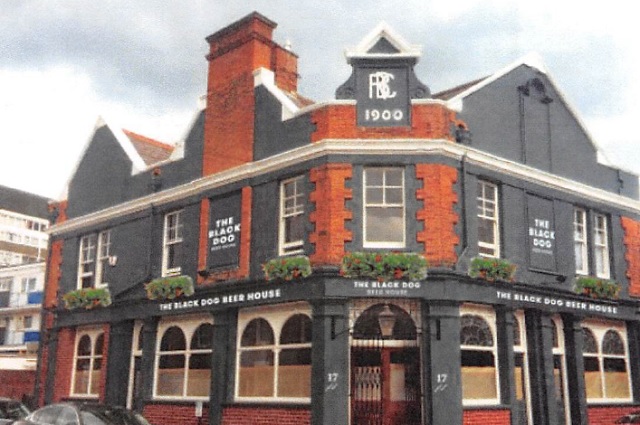 The Black Dog Beer House, a recently opened pub on the site of the former Albany Arms has been granted an extension to its licensed hours by Hounslow Council's Licensing Committee.
The newly agreed operating hours are as follows:
Supply of Alcohol
Monday to Thursday 10:00 to 23:30
Friday to Saturday 10:00 to 00:00
Sunday 10:00 to 23:00
Late Night Refreshment
Sunday to Thursday 23:00 to 00:00
Friday to Saturday 23:00 to 00:30
Hours premises are open to the public:
Monday to Thursday 10:00 to 00:00
Friday to Saturday 10:00 to 00:30
Sunday 10:00 to 23:30
They are also allowed to serve until 1.30am on New Year's Day.
The opening hours of the beer garden have been reduced as follows:
Sunday to Thursday closes at 22:30
Friday to Saturday and New Year's Eve 23:00
The previous licensed hours at the premises which were inherited from those that applied at the Albany Arms were as follows:
Supply of alcohol, Recorded music and Amplified voice for events such as quiz nights:
Monday to Thursday 11:00 to 23:00
Friday to Saturday 11:00 to 23:30
Sunday 12:00 to 23:00
Opening Hours
Monday to Thursday 11:00 to 23:30
Friday to Saturday 11:00 to 00:00
Sunday 12:00 to 23:30
The meeting of the licensing committee on 23 October heard from the applicant, Mr Peter Brew and his solicitor. A local resident who was objecting to the extension, a Mr Wright also attended. In all six objections were received to the application in relation to fears about public nuisance and crime and disorder which some residents feared would increase if the extended hours were granted.
Most of the representation referred to problems that had occurred with the pub under the previous licence holders when the pub became associated with anti-social behaviour including a stabbing. The issue of noise nuisance was also raised and objectors also voiced concerns about the application to sell alcohol in sealed containers for consumption off the premises.
The applicant said that the new management intended attract a very different sort of clientele from the Albany Arms with a target market of families and professionals.
The applicant's solicitor said that Mr Brew and his partner had previously worked for other companies managing pubs and had experience in turning around pubs with a poor reputation. It was claimed that the existing licence which dated back to 2005 was worded in a way which that whilst the original licence appeared to have been directed to provide 30 minutes drinking time after the end of licensing hours, the actual wording of that licence permitted the sale of alcohol for a further 30 minutes after that time, which in effect permitted the same hours for the sale of alcohol as contained in the current application.
In answer to questions about the dispersal of customers at closing time the applicant's solicitor said they could agree to put someone on the door if necessary and could agree some form of dispersal policy if required.
The panel decided that the proposed variations did not appear to be contrary to the licensing objectives, although the Panel wished to ensure that patrons of the premises were dispersed as soon as possible in order to minimise any disruption to residents.
We have asked Mr Brew for a comment on this decision.

November 9, 2018