Queen's Award for Enterprise for Sustainable Developments presented at Brentford Store

Big Yellow Self Storage Group PLC has been awarded the Sustainable Development Award by The Queen's Awards for Enterprise 2012. The prestigious accolade was handed over during a special ceremony held at the company's new store in Brentford.
The Queen's Awards for Enterprise recognises UK businesses who have excelled over a long term in areas including Innovation, International Trade and Sustainable Development.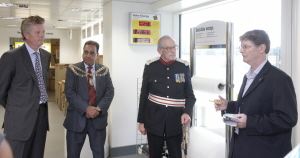 Pictured from left to right are Operations Director Adrian Lee, the Mayor of London Borough of Hounslow, Councillor Pritam Grewal, Her Majesty's Deputy Lieutenant for Hounslow Paul Kennerley,and Paul Donnelly CSR manager at Big Yellow.
Big Yellow was awarded for its ongoing efforts in social and environmental responsibility. The company works continuously with its staff, customers and investors to minimise waste, water-usage, carbon dioxide emissions and its total carbon foot-print.
Operations Director at Big Yellow Adrian Lee says, "As a leading provider of self storage across the UK, we have worked hard to minimise our impact on the environment and it is great to see that this dedication has resulted in us being awarded the Sustainable Development Award. "
Paul Donnelly, the company's dedicated CSR (Corporate Social Responsibility) manager add, "We will continue to work hard to significantly reduce our carbon footprint through a variety of different technologies such as energy efficient LED, motion sensor lighting and solar panelling."
The Big Yellow Group PLC owns, operates and develops self storage facilities, located throughout the UK. It provides purpose built storage space for domestic and business use constructed of, mostly, re-cycled, low-energy materials.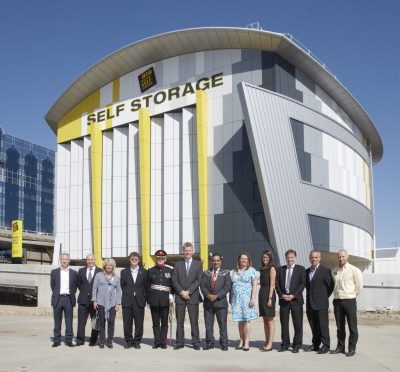 Additional guests pictured outside the Big Yellow store in Brentford include President of Brentford Chamber of Commerce, Suzie Betlem; local Planning Officer Sarah Smaill, and editor of BrentfordTW8.com Kath Richardson
October 4, 2012