Page in match day programme devoted to Mark Maddox's cause
Brentford Football Club have given their backing to a one man campaign to raise awareness of motor neurone disease. a rapidly progressive and fatal condition that kills five people in the UK every day.
Football v MND is fronted by former professional footballer Mark Maddox. Since his diagnosis just before Christmas 2010, he has run two marathons, sky-dived and sung about the disease in two albums with his band. Now the Liverpudlian is turning to the football community to help support the MND Association's campaign.
The once fit and healthy player was diagnosed with MND in his late thirties and with a young family. There is no cure and it's started to affect the way Mark walks and talks. He knows it won't be long before he is in a wheelchair. Half of those diagnosed with MND die within 14 months.
As a player Mark made more than 300 appearances and now, through Football v MND, he is hoping to make another 300 appearances at football grounds this season through his awareness posters published in match day programmes.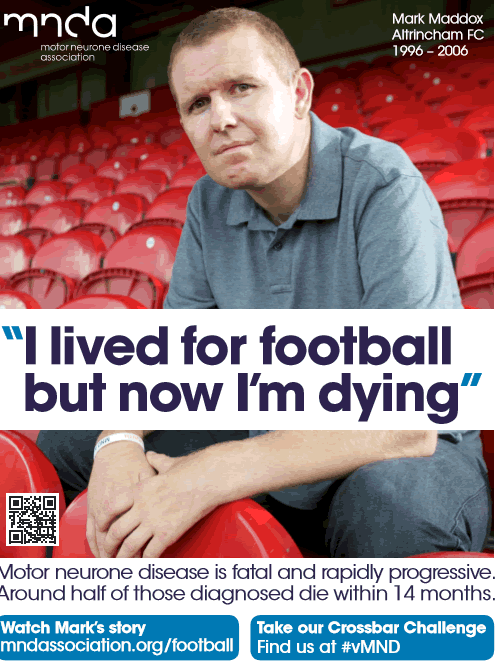 Brentford FC donated a page in their match day programme on 11 March 2014 to run a special poster

Julia Mepham, a member of the West London and Middlesex branch of MND, contacted Brentford FC about joining the Football V MND campaign. Her father, Roy Mepham was passionate about football from an early age. As a teenager he signed with Brentford juniors and played for them for two seasons, appearing in their programme back in 1965. After playing for Brentford he continued to play in Sunday football leagues and also with the Post Office football team where he worked in Paddington, London. He was diagnosed with motor neurone disease in 2009 at the age of 62 and passed away 13 months later on 1 December 2010. He thoroughly enjoyed the time he spent playing for Brentford juniors.
Janis Parks from the West London & Middlesex Branch said: "We give practical help and support to people living with MND, their families and their carers in our local area. MND is a devastating disease and volunteers from our Branch do everything they can to improve the quality of life for people with MND as much as is possible. We are delighted to be part of our national Football v MND campaign and to reach so many people who might not have heard of MND thanks to Brentford FC."
The 40-year-old from Merseyside said: "Aside from my family, the support of the football community matters so much to me. People I've played with over the years have seen what MND is doing to me and how it's changed my life. They are well behind Football v MND but I want to reach out to players and fans across the country that I can't talk to personally.
Those who were unable to attend the game can still get involved by taking part in Mark's Crossbar Challenge.
For more information about the Football v MND campaign and to watch videos of Mark and his story see www.mndassociation.org/football. For more information on the go to www.mndassociation.org/getting-support/local-support/branches/London/west-london-and-middlesex-branch.
For more information please see www.mndassociation.org or contact Mandy Garnett from the West London and Middlesex MND Branch on 0208 971 2104 or mandyjgarnett@hotmail.co.uk; or google MND West London.
March 14, 2014