Kirpan for the Boardroom
Participate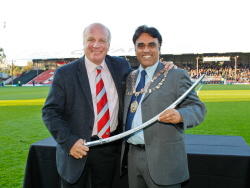 Brentford Chairman Greg Dyke receiving the sword on the Griffin Park pitch from Mayor of Hounslow Cllr Amrit Mann

Sign up for our free newsletter

Comment on this story on the
Brentford Football Club welcomed the Mayor of Hounslow to Griffin Park on Saturday for a special presentation.
Councillor Amrit Mann watched The Bees' npower League One clash with Charlton Athletic and presented a special Sikh ceremonial sword to the Club before kick-off.
The presentation of a Kirpan was in recognition of the work done by the Club and Brentford Football Club Community Sports Trust in the borough. It is the highest honour that can be bestowed upon an individual or organisation by the Sikh community.
The sword has been engraved with a special message from the Mayor, and the Council, to the Club. Brentford Chairman Greg Dyke received the sword on the Griffin Park pitch before the match and the Mayor was a guest of the Club in the Boardroom.
Councillor Mann said: "We are proud to have Brentford FC in our borough and recognise the fantastic work they undertake in the local community with the Community Sports Trust.
"The Kirpan is a great honour and I was delighted to be asked to present it to Mr Dyke as a token of appreciation from the London Borough of Hounslow. A sword is the highest honour in the Sikh religion and the Asian community.
"There are links between the borough of Hounslow and the Sikh community going back to when soldiers from Hounslow Barracks went to fight in the Punjab. This is a celebration of what Brentford does in the community and I want to get the Asian community from my ward, Heston, involved in the Club."
Mark Devlin, Brentford Football Club General Manager, said: "We are very grateful to the Mayor for his support of the club and its work within the community. It is a great honour for the club to receive a Kirpan from the Mayor, and we understand how significant this honour is within the Sikh community.
"The ceremonial sword will be proudly displayed within the Boardroom at Griffin Park."
November 28, 2011