BRENTFORD BAND TO RELEASE FOURTH ALBUM

Something 'bout the neighbourhood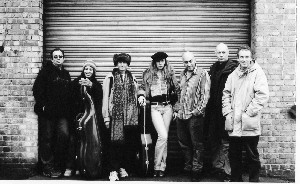 Slipper - Far right John Woodley, 3rd from right Sam Dodson, 4th from right Andrea Black
Brentford band Slipper, due to release their fourth album When Hot Dogs Fly, find their work together is very much a family affair. Three of the members - Sam Dodson, Andrea Black and John Woodley - originally met in St Paul's Park, while their young children played on the swings. As they chatted, they soon discovered that each were keen musicians - Andrea a singer, John a theremin player and Sam a member of Loop Guru, a writer of music for Slipper and founder of the record label Elsewhen. Sam invited the two to his studio, and work began on the forthcoming album. As well as singing, Andrea wrote the lyrics, and John laid down some of his ethereal sounds.
With busy lives, band meetings are unconventionally fitted in while dropping off the children at school - all are in the same year at Green Dragon Primary School in Brentford and they know all the songs as well as their parents - and CDs of the backing tracks get passed to and fro. 'It's so unhip that it's hip, and that's Slipper for you,' says Sam.
Showing a touch of community spirit, the trio often travel together when playing up town. John, who doesn't drive, especially loves this arrangement! 'I can go out and play, have a beer and know that Sam or Andrea can give me a lift home, as we're all local to each other.' In fact, many of their friends are local too, so any gig is full of familiar faces.
Slipper's next gigs are on 29 and 30 November at Pizza on The Park in Knightsbridge, a venue that suits their jazzy lounge style perfectly, which has been compared to Goldfrapp and Portishead with a sense of humour. 'Guests get to eat pizza, have a glass of wine and listen to our music in a very laid-back atmosphere,' adds Andrea.
When Hot Dogs Fly is out on Elsewhen Records on 22nd November.
Become a member of BrentfordTW8.com - it's free
Comment on this story on the