Building now could be used as restaurant or a creative space rather than a gym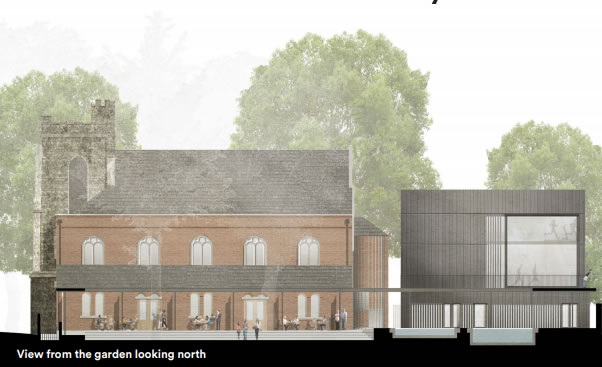 There has been a cautious welcome from local residents' groups to revised proposals by Ballymore for the St Lawrence's Church building.
The Church is now within the land (Plot A) to be developed as part of the Brentford Project and the treatment of the building, which has a tower dating back to the 15th century, was of particular concern to local heritage groups.
Ballymore say they now wish to make the area around the Church 'a key community and commercial space, as well as a hub for residents of the development'.
They already have permission for the change of use of St Lawrence's Church to provide a residents' gym and swimming pool as well as the development of Plot A for 18 apartments and public open space.
The south side of St Lawrence's Church will still open out onto new community gardens but Ballymore are now proposing to preserve and restore the Church and increase the range of uses to which it could be put. Options include a nursery or café and restaurant, workspace or other creative use. They are not seeking approval to use the Church for any residential purpose.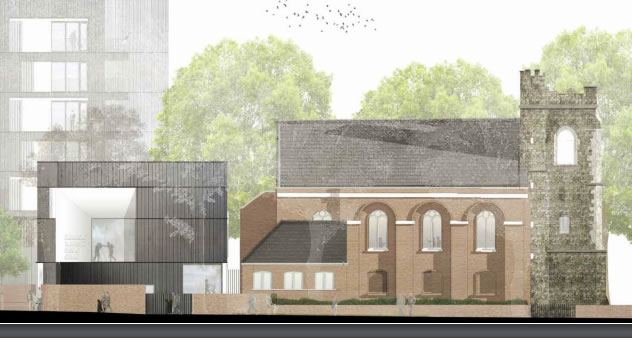 View of planned design from the High Street
The proposed swimming pool would now be relocated to the east of the plot and would be open air reducing the need for additional structures. A gym would be built immediately to the east of St Lawrence's Church(and separate from it. There would also be a seven storey building with 18 flats at the site.
They plan to bring the original churchyard into the public realm, organised into two distinct gardens: a 'wild garden' which will have informal planting with a woodland character and a 'cloister garden' which will feature a walkway surrounding quieter, shade planting under the retained trees. Pedestrian access through the open space would be maintained.
A new full application is expected to be submitted at some time later this month and a consultation is being held about the proposals. Concerns have been raised by some local amenity groups that applications may not be valid because residents will not be properly consulted during the lockdown.

May 12, 2020