Ballymore's controversial development goes to Planning Committee for decision this month
It was two years ago, almost to the day, when around 250 people gathered in St Mary's Church to meet the developers and architects of the proposed development for the area south of the High Street. Senior Council Officers were also there to hear the views of local residents which were summarised as 'Too tall, too dense, and too plain ugly'.
Nothing much has changed since then as Joe Swindells of Ballymore confirmed in a meeting this May with Brentford Chamber of Commerce, where he seemed to take on concerns about retail, riverside and leisure, although they haven't yet been addressed.
The Planning Committee have just confirmed that the application will be held on November 27th at the Lampton Park Conference Centre, the Civic Centre, Lampton Road, Hounslow, TW3 4DN, at 7.30pm.
There is a sense of increasing urgency and frustration as the area looks increasingly derelict. People would like to see action on the site and a sense that something is finally happening after over 20 years of waiting. But this is also a once in several generations opportunity to build a town centre for Brentford that will last well beyond our lifetimes. A town centre that has to work and flow for residents, retail, leisure, commerce and river users. It's worth getting right, as there won't be another chance.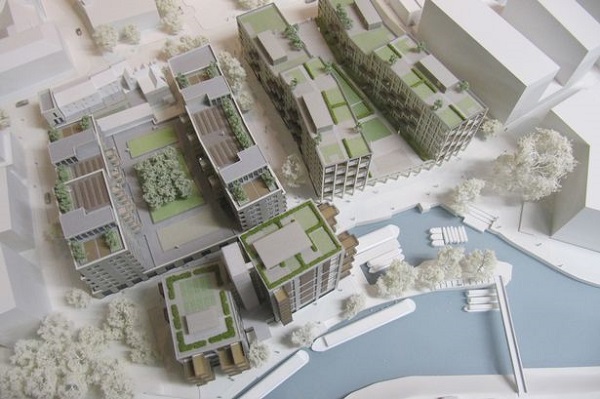 Andrew Dakers, Chair of Brentford High Street Steering Group, said:
"Ballymore leaves a community desperately disappointed by the overbearing and brutal scheme that is on the table. As the scheme stands it would recreate some of the worst town planning errors of the past. S106 resources should be allocated to enable a working group of residents' representatives to work closely with the architects on bringing new facades back to committee that are loved rather than loathed.
"The Council and Ballymore should also give the community a clear, timetabled plan for how Watermans will be relocated into the town centre. Commissioning an inspirational architect such as Zaha Hadid to design the new arts centre would fit well with the Council's aspirations to put the Golden Mile and Brentford on the map as a world class location to live and work".
Suzie Betlem, President of Brentford Chamber said:
"We would welcome discussions with Ballymore about a business and retail strategy, as have previously commented, and are dismayed that these are not a vital part of the planning application prior to approval. We have concerns about the appearance and density of the development, but as a Chamber our focus is that businesses, whether commercial or retail are supported financially and otherwise both during the development phase and as trading starts in a new town centre. The fear is that footfall decreases as construction increases and the town centre dies a death before it's reborn.
"None of the businesses along the High Street, who will all be severely affected by the development have had any discussion with Ballymore as to their continued trading. The much welcomed changes to Market Place have had a significant negative effect on trading during construction and this is a tiny disruption in comparison".
To see the Planning officers report visit Planning Committee agenda. The full agenda, with reports, is normally available to view a minimum of seven days before the date of the meeting which is is open to the public. Speakers are allowed to address the Committee at the discretion of the Chair of Planning Committee. If you wish to enquire as to whether it would be possible to address the Planning Committee, please contact the Committee Administrator, Wendy Merry on 020 8583 2061 or email wendy.merry@hounslow.gov.uk. You must do so no later than 12 o'clock on Friday 21st November 2014. Those allowed to speak will be notified in advance of the meeting. In the event of a large number of requests being made to speak, priority will be given to organisations representing groups.
If you have any new information that raises planning considerations not already addressed in the Report, please send an electronic copy to the planning officer no later than 25 November 2014 so that it may be assessed and, where appropriate, displayed on the projector at the meeting. If you send such information to the Councillors on the Committee, please also provide the planning officer with an electronic copy by 25 November 2014. If you don't do this then the planning officer may not be able to answer questions (or offer solutions) when Councillors raise your concerns about the application during its discussion at the meeting.
November 14, 2014