Community organisations not impressed with Ballymore's application for the High Street development
Brentford's longest established community organisations representing business and community interests have slated Ballymore's recent planning application for the town centre. Whilst welcoming the readiness to invest, they described the new buildings as "aggressive, overbearing and underwhelming" urging Ballymore and their architects to work hard and fast to improve their proposals. Particularly criticised was the block designed by architects AHMM – although areas for improvement have been identified across the scheme.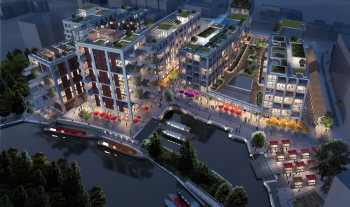 Suzie Betlem, President of Brentford Chamber of Commerce, wrote in their letter to the developer:
"The Brentford business community has been eagerly waiting for the proposed redevelopment, as the area has been run down for over 15 years during which time many Brentford businesses have struggled to survive and prosper. With three business premises recently vacated and several buildings unused and un-let, it is vital and imperative that the plans for Brentford and its future growth are very seriously considered…
"It has been unanimously agreed and without exception, that the final plans drawn up and visuals presented are disappointing, unimaginative and uninspiring and do nothing to encourage business growth for both existing and future business investors.
"Monolithic block structures with relentless linear frontage and side views. Increased heights giving little light and space between buildings. The materials suggested of concrete, plain brick, square pillars, glass and grey cladding with internal balconies give a sense of enclosure and appear aggressive, overbearing and underwhelming."
Denis Browne, Chair of Brentford Community Council's Planning Consultative committee added in their letter:
"We consider that the present proposals do not offer a scheme which responds to the character, scale and history of Brentford. While all who attended [Ballymore's July] presentation wish to see a speedy re-building of our town centre we are forced to the conclusion that the present scheme is unacceptable and should be revised."
Andrew Dakers, Chair of Brentford High Street Steering Group, said:
"We agree with the concerns of the Community Council and Chamber of Commerce. Whilst there are elements we welcome in the current proposals: ideas around environmental sustainability, a new location for Watermans and opening up the waterside through a series of north-south links, the designs still have a long way to go before they offer the world class development that Brentford truly deserves.
"The aesthetics of the scheme, particularly the proposed block in the heart of the high street by AHMM architects, do not yet respect the traditional vernacular of Brentford as a waterside, industrial town. The importance of this was highlighted by the Prince's Foundation for the Built Environment in a 2010 report co-commissioned by us with Ballymore. Sadly it has thus far been ignored in one of the site's most critical locations.
Brentford High Street Steering Group will be publishing a detailed analysis of the proposals in the next few weeks. In November Hounslow Council's Area Forum is likely to have a public meeting to discuss the proposals.
Residents' comments should be promptly emailed to the responsible planning officer: sunny.desai@hounslow.gov.uk
October 11, 2012