Proposed Development of South of the High Street does not do Brentford Justice
The series of public consultation meetings lasting a year with Ballymore about the total redevelopment south of Brentford High Street (that is, from the High Street down to the waterside) culminated in an ill-received presentation by Ballymore on 12 July 2012 at Holiday Inn.
Members of Brentford Community Council, Brentford Chamber of Commerce and Brentford High Street Steering Group met to see the latest vision of Ballymore's (one that is not presented on Ballymore's consultation site www.mybrentford.com)
One advisor to the civic society groups with a professional background in planning summed up the proposal as follows: "I have rarely seen proposals for new development on such an important urban location in London in recent years showing less understanding, appreciation and regard for context and setting (and the legitimate needs and interests of the local community) than these."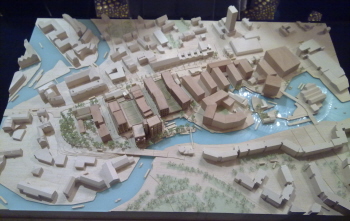 Denis Browne, an architect and retired Director of Planning for London Borough of Hammersmith & Fulham, and Chair of Brentford Community Council's Planning Consultative Committee, added:
"Concerned local residents have been thinking about how to rebuild our High Street for a very long time. Brentford High Street Steering Group has worked out a detailed planning brief/community vision (see above). We also arranged for the a study from the Prince's Foundation Built Environment co-commissioned with Ballymore (pdf) to try establish the basis for a new centre which would be an outstanding scheme for the 21st century and one which would respect the long history and special character of Brentford.
"The Council has also established a framework. The Brentford Area Action Plan was the first to be adopted in Hounslow and it sets out principles and guidance.
"When Ballymore started to work up a scheme it looked as though they were going to build on these foundations. The way the site was planned, the research that lay behind their proposals looked promising. Ballymore set up meetings for local residents. The Brentford Community Council, the Chamber of Commerce and the long suffering High Street Steering Group held joint meetings with them.
"But, sadly, it looks at the moment that Ballymore will be applying for a scheme which has failed to fulfil their early promises.
"From the pictures we can all see that they want to build a great many high rise flats and a shopping area which is not appropriate for our needs or for the character of our area.
"Brentford deserves something better. We have waited long enough. It must be a big temptation to support anything which is put to us. We feel that Ballymore can produce an outstanding scheme if we insist on the quality we deserve."
Photos of their presentation were taken and are presented here and in higher resolution http://photobucket.com/ballymore
Ballymore are shortly going to submit an outline planning application for the whole area which sets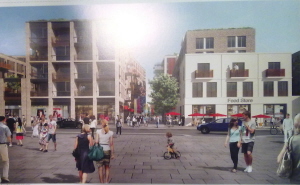 out road plans, maximum height of buildings and floor space used and a detailed planning application for phase 1 with the three blocks south of the Magistrates' Court which constitutes 40% of the site.
The white building on the right is the entrance to the proposed supermarket, next to the Magpie and Crown, which is four stories tall. The rest of the development is between 5 and 10 stories tall.
While Ballymore have introduced lanes running from the high street to the waterside, these have little in common with the original yards other than their narrow width.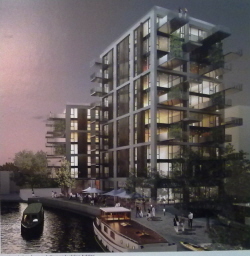 The images show the proposed architectural design: square and imposing, but these were not seen as being imaginative or appropriate by community representatives.
If you would like to comment on this proposal, which has not yet been formally submitted to the council, please email David Laycock, Ballymore (dlaycock@ballymoregroup.com)
Copy in your local councillors:
Theo Dennison (theo.dennison@hounslow.gov.uk)
Steve Curran (steve.curran@hounslow.gov.uk)
Jason Ellar (jason.ellar@hounslow.gov.uk)
Ruth Cadbury (ruth.cadbury@hounslow.gov.uk)
Mel Collins (mel.collins@hounslow.gov.uk)
Matt Harmer (matt.harmer@hounslow.gov.uk)

Copy in the planning department (sunny.desai@hounslow.gov.uk)
And….
Mary Macleod MP (mary.macleod.mp@parliament.uk)
Brentford High Street Steering Group (andrew.dakers@blueyonder.co.uk)

Please post queries and comments on Brentford TW8 forum and we'll do our best to answer them.

July 31, 2012