Regular eye checkups key in preventing sight loss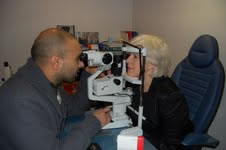 On 22nd January Ann Keen MP visited Fantaseyes Opticians in Brentford. The visit was hosted by the Local Optometric Committee. Also attending were Hounslow Primary Care Trust's Assistant Commissioner for eye services, the Royal National Institute for the Blind, the Macular Disease Society and Visual Impairment Services in Richmond.
At the event Ms Keen learnt about the range of services available from the branch; Fantaseyes, owned by husband and wife team Kam and Sangeeta Koonar, specialise in contact lenses and paediatric eye care. They also have a Visagraph service, whereby they can establish a child's reading ability and time by examining their eye movements, and then use that information to help the child improve their reading.
During the visit the opticians took the time to tell the MP how patients benefit from receiving eye healthcare services in a community setting. They highlighted the accessibility and convenience of being able to attend routine checkups on their local high street, as well as the importance of specialised paediatric services.
Following her visit, Ms Keen said:
"We know that demand for eye care services will increase in coming years as people live longer and this is a real challenge for the health and social care system - in particular in light of evidence that half of sight loss is preventable or treatable.
"People may not be aware that they are losing their sight in the early stages and it is best to identify any problems as early as possible. People may not know about all of the services available to them in Brentford and I hope my visit has highlighted the extent of the services on offer."
Commenting on the visit, Mr Kam Koonar said:
"Local opticians are ideally placed to provide NHS patients with routine check-ups and can help patients to manage their eye health in a community setting.
"Following the recent contract negotiations, we look forward to playing a greater role in eye healthcare, helping our patients to successfully manage their eye health."
January 29, 2010