Wednesday Evening Classes starting for adults
Street Dance 3D launched in Feltham with a Street Dance 3D Movie Dance Off.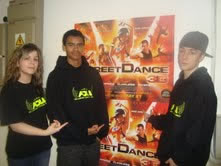 Alliance Dance Unit Elite Dancers Torron-Lee Dewar,Arron Mario Strutt & Chloe Potter won the competiton at Cineworld Feltham.
The event was hosted by model and TV presenter Lucy Clarkson and DJ Spinny D provided the soundtrack. The judges were Androulla Erotokritou, a dancer at Pineapple studios, AJ from sponsor Image 1st, and Fudge, the part owner of Prestige Barbers and dancer.
ADU have won a professional portfolio photo shoot with Pineapple studios and make over with Prestige Barbers and had an interview with Westside radio where they taught the interviewers to dance. .
Alliance Dance Unit are holding Master Classes every Wednesday evening at 8pm at the Katie Cannon Centre, The Old Brick Yard, 1 Eastbourne Road, TW8 9PG (opposite the Globe Pub Windmill Road )

This is not a performance group it's just for fun and exercise so put the kids to bed and come and join in for an hour. Bring your friends it's only £5 a lesson for 16+ / Adult
Alliance Dance Unit can be found on facebook.
May 28, 2010