Suggesting walking or cycling route to view spring flowering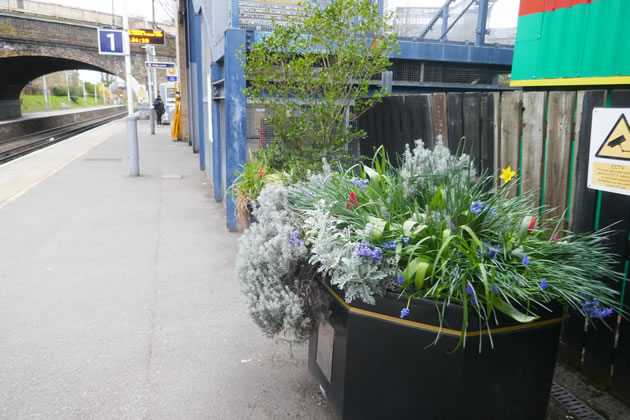 Flowers blooming at Brentford station. Picture: Air Quality Brentford
This Springtime Air Quality Brentford (AQB) is suggesting a route for you to walk, scoot or cycle around to check out its community planting projects. It has called the circuit Tour de Plants.
The spring bulbs it planted in November are already flowering. They are part of its campaign to #MakeBrentfordGreener to help improve our air quality locally, increase biodiversity and encourage residents to green-up space in their own front gardens, balconies and window boxes. This year has shown just how important green spaces are for mental health and a feeling of well-being and even the smallest space can make a big difference.
You are invited to posts your favourite plant, tree, insect, or pockets of greenery while on your travels #MakeBrentfordGreener @agreenerlondon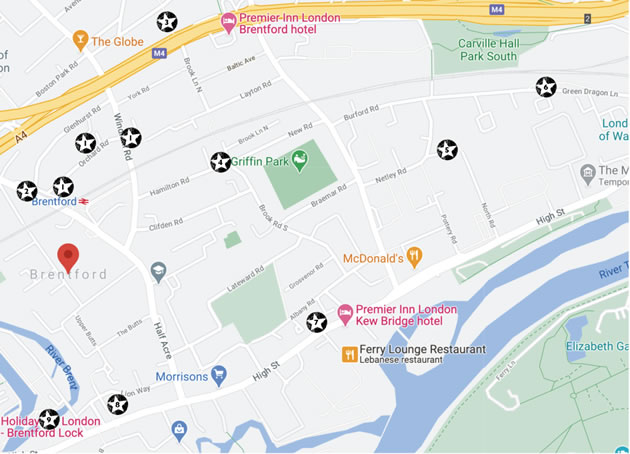 1. Brentford station/Orchard Road – South Western Railway (SWR) gave permission to plant daffodils on the grassy slope to the north side of the station. The slope used to attract a lot of rubbish from train passengers, and the flowers have managed to deter the throwing of litter. AQB also liaised with SWR to plant up two containers on the station platform and four outside the station. The slope opposite the Kings Arms pub is also on SWR land and AQB look after this as well as the planters on Orchard Road near Mercury House.
2. Boston Manor Road shops – Hounslow Highways gave permission to put planters outside the shops here to brighten up this area outside the newsagents and across the road outside the dry cleaners. Orchard Road residents help to look after the plants here and at Brentford Station.
3. Eastbourne Road walkway – AQB liaised again with Hounslow Highways for this area which was in need of some greenery and these planters are looked after by local residents.
4. Hamilton Road – AQB worked directly with the newsagent, pub and hairdressers to add some greenery to this road. This area also used to attract litter. Local residents take care of the plants here.
5. Netley Road shops – Hounslow Highways gave permission to use planters in this location to brighten up the public area outside the shops. Local residents and the nearby shops look after these plants.
6. Tree saplings on Green Dragon Lane – Lampton 360 gave permission and worked with AQB to plant over 100 tree saplings as part of the Mayor of London's initiative to plant 100,000 trees across London. AQB planted most of them on this site and over 30 at Mercury House and these will be relocated in to the green spaces of some of the estates in Brentford once they have reached a suitable size. They were planted two years ago and are beginning to look quite leafy in the summer and have gained a good height.
7. Brentford High Street, outside Watermans Court – in partnership with the Co-op Housing Association AQB got permission to plant in to the 10 empty brick planters outside the residential development bordering the High Street. Horticultural students at Capel Manor College designed and planted up the containers as part of their final term at the college. AQB could do with some extra assistance to water these planters in the hot months of the year – can you help?
8. Brentford Market Place – AQB received a grant from Hounslow Council to green-up Market Place. It took a while to decide on the lovely Corten containers and AQB got them custom-made in 'Covid times' which led to some delay, however the containers have made a positive difference to this public space.
9. Brentford Gauging Lock – working with The Canal & Rivers Trust AQB used containers donated to us by Kew Gardens to green up the central island at the Gauging Lock. Volunteers at the lock help look after the plants by watering them in the summer.
Get in touch by email to airqualitybrentford@hotmail.com if you can volunteer some time to look after the projects nearest you, watering in hot months and an occasional tidy-up.
Air Quality Brentford (AQB) is a voluntary group of local Brentford residents helping to improve air quality and can be found on Facebook,

@agreenerlondon.
April 2, 2021