Air Quality Brentford gets the community digging for greenery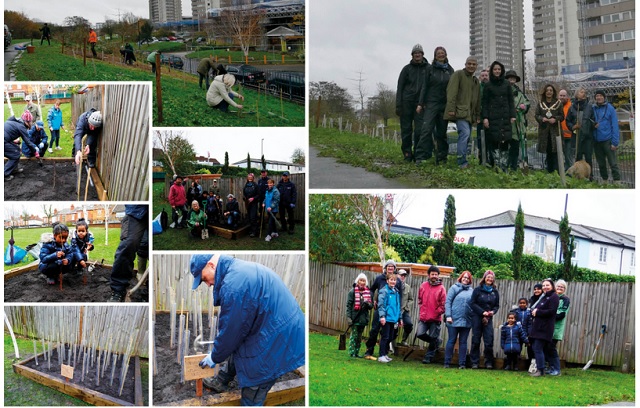 Air Quality Brentford planted over 100 tree saplings last weekend as part of the Mayor of London's initiative to plant 80,000 trees across the city.
The huge band of rain forecast to fall on Brentford during the Mayor of London tree planting project had thankfully petered out by 9.30am.
Understandably this might have had an impact on potential helpers, however a hardy group of willing volunteers formed, including some from West Drayon, Acton, and beyond, determined to plant some trees on this designated weekend.
It seemed that an event in Ealing had been postponed, and they found the Brentford listing on the Mayor's website. Some people also donated the trees they'd won in the tree ballot, so in total 64 of the Mayor's tree saplings were planted opposite Brentford Towers on Green Dragon Lane.
Many thanks to Dave and his team from Green Space 360 and Hounslow Council for allowing AQB to plant the trees here. They had prepared the ground in advance and also brought wood chips to cover the area and help allow the trees to grow. An additional special tree, a Magnolia Grandiflora, had been donated by the gardeners at Syon House and it was agreed to plant the tree at the top of the hill, which is wonderful.
Special thanks to the Mayor of Hounslow Councillor Samira Chaudary and Councillor Mel Collins coming along and supporting the project.
Lampton 360 created a special nursery area for saplings at Mercury House on Windmill Road where they will be looked after by Mercury House residents and Grounds Maintenance for about 2 years and then relocated.
Lots of enthusiastic volunteers turned up at this planting, including some residents of Mercury House, and two budding young gardeners. Everyone took it in turns to plant the trees in rows, heal in the soil around the trees, and position bamboo sticks and protective plastic coverings. Thanks to Josef and his team for the preparation involved in making the nursery, and to Theresa and Andrea for giving permission for these trees to be planted on Hounslow Housing land.
December 5, 2018