Air Quality Brentford get planting with willing gardeners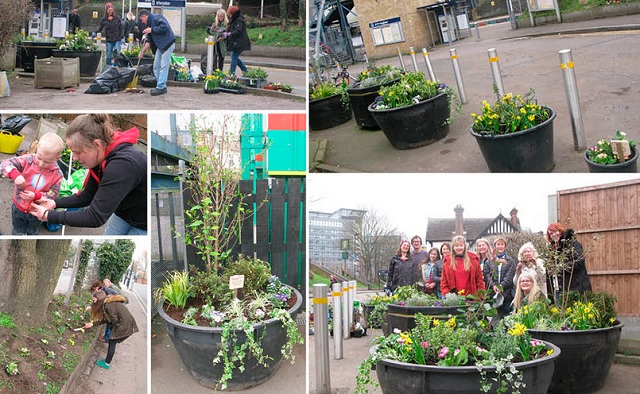 Air Quality Brentford celebrated the clocks going back on Sunday 25th March 2018 by adding to their plantings around Brentford Station.
The daffodils planted back in December on the grassy slope north of Brentford Station are about to flower.
Big thanks go to the gardeners at Syon House who kindly gave us some old tree containers they were about to throw away – ideal for a community planting project – and some shrubs, a large bush and a Magnolia. We were also quite overwhelmed by further plant donations from Homebase, Syon Garden Centre, Osterley Garden Centre and B&Q. We then supplemented these with a trip to New Covent Garden Market and neighbours were digging foundations so we were able to utilise their soil to keep costs to a minimum.
Special thanks as well to neighbours and Brentford residents who came out to support in many different ways – not forgetting the passing Algerian chef who missed his train to help us, then got stuck in and stayed for hours. Great community spirit!
There are now 2 large containers on the London-bound platform and 5 containers outside the station area. Please do help us to keep these tidy and water them in dry spells if you are able to.
This is part of Air Quality Brentford's plan to make Brentford a much greener place to help mitigate the harmful effects of pollution from traffic, and of course to make the area more attractive. If you are able to contribute to this project and other upcoming ones, we have a bank account and would be grateful for your support.
March 29, 2018