366 stories about London's history and people
Did you know that the first London Olympics in 1908 was the first Modern Olympics held outside Athens, and included a race run by a single athlete - the only 'walk-over' in Olympic history and that the second London Olympics in 1948 was the last Olympics to include an amateur art competition?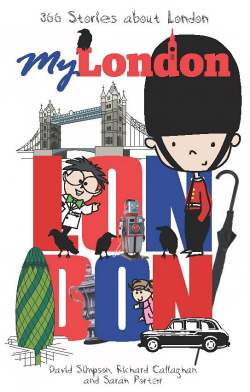 If you didn't know that UCL houses the stuffed carcass of Jeremy Bentham, that the London Underground has evolved its own unique breed of mosquito and that Britain's smallest police station is hidden inside an ornamental light fitting in Trafalgar Square, then My London is the book for you.
A delightfully different history book, crammed with fascinating facts, My London contains 366 stories about London's history and people ranging from the familiar to the fantastic and includes six fantastic winning entries from the My London Young Writers Competition.
Children aged 8-12 from schools across the capital were invited to write a short piece about any aspect of London that sparked their inspiration. Hundreds of entries of an extremely high standard were submitted, with six winners eventually chosen. Author David Simpson said "Our goal was to inspire young people to show what London means to them and the volume and standard of their response has been incredibly impressive."
My London is priced at £12.99 and is available from bookshops or online at www.myworldpublishing.co.uk For further information contact Andrea Murphy or David Simpson on 0191 305 5165 or email: andrea.murphy@myworldpublishing.co.uk or david.simpson@myworldpublishing.co.uk
Think you know everything there is to know about London? Think again...
· In 1809 the rising price of Covent Garden theatre tickets led to sixty-seven solid days of riots!
· The Lord Mayor of the City of London receives an annual fine of a single red rose due to a fourteenth century breach of planning permission.
· London's narrowest house is less than six foot wide.
· Dead bodies once had their own private railway at Waterloo.
· The London A-Z has about one false entry on every page, and...
· It is actually illegal to die in the Houses of Parliament!
Advertisement
April 25, 2012